Metal seat ball valve is selected for the heavy duty medium such as solid particles, abrasive, high temperature or high pressure class or with anyone of the mentioned condition combined, typical pipeline like coal chemical , pulp & paper and crude oil refinery etc.The QL metal seat ball valve shows good sealing performance, long time service, low torque and comparatively less pressure loss in above mentioned service. The general valve like globe and gate valve couldn't meet such working condition, so the metal seat ball valve growing up more demands for severe service.
QL high performance metal seated ball valve features a metal-to-metal seal between the seats and ball of the valve assembly.
● According to different working condition, QL use the advanced ball and seat surface hardness coating technique, the normal surface will be above HRC 60,and max will be above HRC 74. The sealing surface is hardened by the coatings types like CRC, TCC, STL6,Ni 60, overlay cladding coated STL, etc.
● Preferable HVOF (high-velocity oxygen-fuel) technique coating material chromium carbide CRC, tungsten carbide TCC/Cr3C2, stellite hard facing Ni60 with hardness 68-74 HRC and coating 02-0.25mm. Nickel-based alloy thermal spray welding technology general coating thickness is about 0.5~1.0mm, the hardness can reach HRC55~65, and the bonding force is about 400MPa. These material have excellent high temperature and high pressure hardness, corrosion and duration resistance.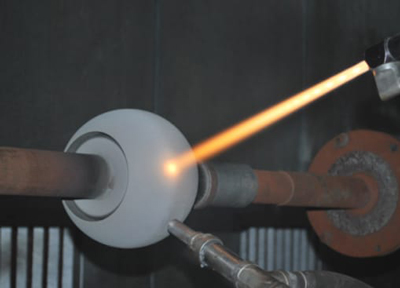 ●

 

Metal seat sealing ball valve requires exquisite machined and ball grinding to insure a positive sealing for bubble tight zero leakage performance test.
● Butterfly spring or spring loaded design in seat sealing design eliminate the ball valve stuck by high temperature heat expansion.
● The metal seat floating ball valve has the seat sealing structure behind the ball inlet end, and it is a one-way seal with the flow direction is on the valve body. If customers have special requirements, two-way sealing structure can also be produced.
● The trunnion mounted metal seat ball valve normally has the structure of seat sealing at the ball inlet end. The two seats can independently cut off the medium at the inlet and outlet ends to achieve double block function. When the ball valve is closed, even if both ends of the inlet and outlet of the valve are pressurized at the same time, the middle cavity of the valve and the passages at both ends can be blocked from each other, and the remaining medium in the middle cavity can be discharged through relief valves.
Ball NDE check,precision CNC ball machining& grinding
Ball Surface finish Less than Ra 0.2 , Ball Roundness is less than 0.02mm

● Low temperature type metal seat ball valve, the medium temperature reaches -196 ℃ , the valve body and internal parts are treated by -196 design degree liquid nitrogen low temperature cryogenic treatment, and the valve extend stem bonnet to ensure that the valve is used in an ultra-low temperature service, the valve leakage rate is zero.
● High temperature type, the medium temperature is as high as 540℃, the valve body and internal parts are made of high temperature resistant special alloy steel after special treatment, and the valve stem is extended with heat dissipation bellow to ensure normal use in high temperature service, and the valve performance is zero leakage.
QL Metal Seated Ball Valves are mostly used for the severe service conditions like high corrosion and erosion process fluid with solid particles and high temperatures or high pressure, such conditions the soft seated ball valve couldn't be durable due to seat material difference. Upon enquiry request, the information of valve medium and temperature is quite important for QL sales engineer to choose correct model type.