Hard Metal Seated Ball Valve Trunnion Mounted ISO5211 Top Flange
Design Feature
Specification
Applications
Product Tags
Metal Seated Ball Valves  
Metal seat ball valve is selected for the heavy duty medium such as solid particles, abrasive, high temperature or high pressure class or with anyone of the mentioned condition combined,  typical pipeline like coal chemical , pulp & paper and crude oil refinery etc.The metal seat ball valve shows good sealing performance, long time service, low torque and comparatively less pressure loss in above mentioned service. The general valve like globe and gate valve couldn't meet such working condition, so the metal seat ball valve growing up more demands for severe service.
● Trunnion Ball has upper stem and lower trunnion guide reduce stem torque
● Graphite sealing between seat and stem suitable for high temperature
● Piston Inconel X750 spring seat balance the seat pressure
● Double bleed and block system
● Fire safe and anti-blow out stem
● The trunnion mounted metal seat ball valve normally has the structure of seat sealing at the ball inlet end. The two seats an independently cut off the medium at the inlet and outlet ends to achieve double block function. When the ball valve is closed, even if both ends of the inlet and outlet of the valve are pressurized at the same time, the middle cavity of the valve and the passages at both ends can be blocked from each other, and the remaining medium in the middle cavity can be discharged through relief valves.
FIG . Trunnion mounted ball valve type
metal seated ball valve seat open and seat close sectional diagram.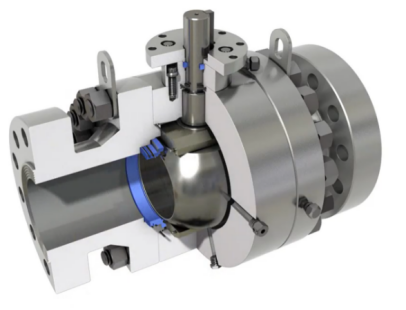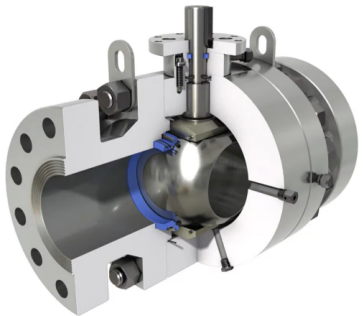 QL Metal Seated Ball Valves are mostly used for the severe service conditions like high corrosion and erosion process fluid with solid particles and high temperatures or high pressure, such conditions the soft seated ball valve couldn't be durable due to seat material difference. Upon enquiry request, the information of valve medium and temperature is quite important for QL sales engineer to choose correct model type.
---
Previous:
---
| | |
| --- | --- |
| Production Range | Metal Seat Ball Valves |
| Material type | Forged steel or Cast steel: carbon steel,LTCS, alloy steel, stainless steel, duplex steel,bronze, Inconel,Hastelloy,Monel, Incoloy etc. |
| Material code | WCB, LCB, CF8, CF8M, CF3, CF3M, A105, LF2, F304, F316, F304L, F316L |
| Seat type | Metal seated  Hard coating material like CRC/TCC/STL6/Ni60/STL |
| Size | NPS 2"~24" (50mm~600mm) |
| Pressure | ASME Class150~2500LBS (PN16~PN420) |
| Operation | Manual, Worm Gearbox, Pneumatic actuator, Electric actuator,Hydraulic-electric actuator |
| Working Medium | WOG |
| Working temp. | Max 540℃ |
| Production Standards | API/ANSI/ASME/EN/DIN/BS/GOST |
| Design& MFG code | API 608/API 6D/ISO17292/ ISO 14313/ASME B16.34/BS5351 |
| Face to Face | ASME B16.10,EN558 |
| End Connection | FLANGE RF/RTJ ASME B16.5/EN1092-1/GOST 33259 ;BUTT WELD BW ASME B16.25 |
| Test & Inspection | API 598, API 6D,ISO5208/ISO 5208/EN12266/GOST 9544 |
| Basic design | |
| FIRE SAFE | API 607 |
| ANTI STATICS | API 608 |
| Stem feature | Anti blow out proof |
| Ball type | Side entry |
| Floating ball  type | one way sealing or bidirectional sealing |
| Trunnion ball type |  Double bleed and block |
| Bore type | Full bore or Reduced Bore |
| Bonnet Construction | Bolted bonnet or full welded bonnet |
| Optional customize | NACE MR0175, MR0103, ISO 15156  compliance |
| | ISO 5211 MOUNTING PAD Bare shaft |
| | Limit Switch |
| | Lock device |
| | ESDV service suitability |
| | Bidirectional sealing to Zero leakage |
| | Extend stem for cryogenic service |
| | Non-destructive testing (NDT) to API 6D, ASME B16.34 |
| Documents | Documents on delivery |
| | EN 10204 3.1  MTR Material  test report |
| | Pressure inspection report |
| | Visual and dimension control report |
| | Product warranty |
| | Valve operation manual |
| | Product of origin |
Oil and Gas Pipeline
The metal-seated ball valves designed to meet the critical service needs in the oil and gas industry. These industries require reliable tight seals with a zero chance of leakage. QL manufacture th
Power generation
QL metal-seated ball valves provide reliable, economical and long-term solutions for critical applications in power plants.  With the harden seat coating durability and less maintenance  the QL metal seat ball valves are ideal valves for the power industry applications.
Petrochemicals
Critical operating conditions, critical safety operations, and corrosive acids in petrochemical processing plants require metal seated valves. The superior performance and surface hardness of the QL metal seated high temperature ball valve will ensure the integrity and safety of the entire operation.
Mining industry
The harsh processing environment of the mining industry can cause serious damage to valves. QL metal-seated ball valves are abrasion resistant and special coating seat durable . They are good in  applications such as exhaust lines, slurry pump isolation and acid injection.
Pulp and Paper Industry
The pulp and paper industry requires zero-leak isolation and hazardous substances. Not only do our metal seated valves provide reliable isolation, they also contain a special hardness coating. This enhances their wear, corrosion and erosion resistance, thereby extending their service life.
Write your message here and send it to us