Modular Double Block and Bleed Ball Valve
Design Feature
Specification
Product Tags
DBB ball valves /Double block and bleed ball valves/Double isolation and bleed ball valves /DBB dual ball valve
QL has the DBB ball valves /Double block and bleed ball valves/Double isolation and bleed ball valves /DBB dual ball valve in ranges design,material, size, pressure and ends connections, providing reliable isolation solution for use in upstream, midstream and downstream in oil and gas, petrochemical, transmission and storage applications.
The trunnion type DBB ball valve is the split body 3pcs body and bolted bonnet integral body design, the valve operation according to valve size like hand lever, gear box, pneumatic or electric. Trunnion ball type DBB ball valve has more flow capacity than small size floating type DBB. The two balls integrated in union body as block /isolation valve and a bleed valve for drain or vent the trapped cavity fluid in order to isolation the downstream pipe or prevent any serve medium leakage possibility. DBB ball Valves suitable for pipeline applications where the shut down plant is not affordable but the repair or clean is compulsory, the DBB system which will depressurize the system and isolate a particular section and then can work on it without interfering whole process plant.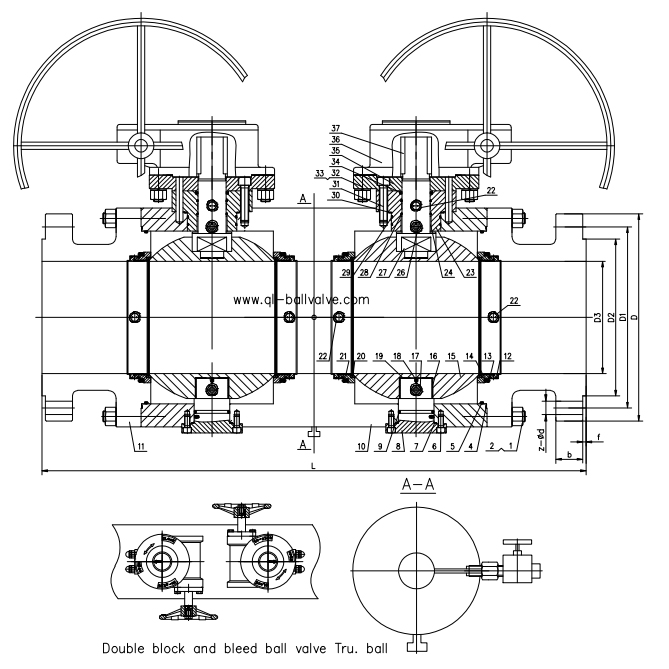 DBB ball valves /Double block and bleed ball valves/Double isolation and bleed ball valves use all the design features and benefits of a single DBB trunnion ball valve, but more special in its double isolation performance. The body is generally is manufactured from forged or bar stock material to ensure a high integrity pressure envelope for the valve body (housing).
● Double secure isolation more reliable to safety factor
● Zero leakage performance credibility
● Bleed and depressurize pipeline system
● Less installation space and less weight in pipeline
● Easy one step operation in one union body
● Less cost in material and labor
● Inline repair or maintenance check allowable by not shut down plant,improve plant efficiency
● Fire safe API607
● Anti-static design API608
● Cavity self relief
● Double block and bleed
● Seals: o ring/graphite for general service /graphite for high temperature service/ lip seal+graphite for cryogenic service
● Seat: soft/metal seated for general service, metal seated for high temperature service
● Seat design: Self relieving or double piston effect seats
● Valve seat bi-direction sealing
● Bonnet: extend stem for high temperature/cryogenic service
Emergency grease injection device for soft seated trunnion ball valve. For the valve size about DN150 trunnion ball valve, both the stem and seat has the grease injection device, for size below DN125,the valve chamber has the grease injection device. In case of the seat sealing or stem o ring damaged, the emergency grease injection will seal the damaged area and prevent the medium leakage.
QL DBB ball valves could be designed with soft seat or metal-to-metal seat. Metal seated for high temperature or particle medium.
The sealing is reliable and suitable for the severe working conditions.
Application
QL has the ranges of DBB ball Valves suitable for Oil & Gas production, processing, transportation, distribution, chemical and petrochemical refining including system isolation, pressure level and flow measurement, instrument drain, chemical injection and sampling for smaller sizes.
QL ball valves designated in highest performance and produced in strictest quality. Contact our sales engineer for your specific fluid needs.

---
---
Special design
DBB Trunnion ball valves
Double secure isolation more reliable to safety factor
Zero leakage performance credibility
Bleed and depressurize pipeline system
Less installation space and less weight in pipeline
Easy one step operation in one union body
Less cost in material and labor
Inline repair or maintenance check allowable by not shut down plant,improve plant efficiency
Production Range
Design & MFG code
API 6D/ASME B16.34 /ISO17292/ ISO 14313/BS5351
Face to Face
ASME B16.10, EN558
End Connection
FLANGE RF/RTJ ASME B16.5/EN1092-1/GOST 33259; BUTT WELD BW ASME B16.25
Test & Inspection
API 598, API 6D, ISO5208/ISO 5208/EN12266/GOST 9544
Material
Forged steel or Cast steel: carbon steel, alloy steel, stainless steel, duplex steel, bronze, Inconel, Hastelloy, Monel, Incoloy etc.
Size
NPS 2″~24″ (50mm~600mm)
Pressure
ASME Class150~1500LBS (PN16~PN250)
Operation
Manual, Worm Gearbox, Pneumatic actuator, Electric actuator, Hydraulic-electric actuator
Basic design
FIRE SAFE
API 607
ANTI STATICS
API 608
Stem feature
Anti blow out proof
Bonnet Construction
Bolted bonnet
Ball type
Side entry or top entry or double block & bleed balls
Bore type
Full bore or Reduced Bore
Optional customize
NACE MR0175, MR0103, ISO 15156  compliance
ISO 5211 MOUNTING PAD Bareshaft
Limit Switch
Lock device
ESDV service suitability
ISO 15848-1 2015 Low fugitive emission test, ISO15848/SHELL SPE 77/312 Low temperature leakage test
Non-destructive test (NDT) API 6D, ASME B16.34
Third party inspection test report
Documents
Documents on delivery
EN 10204 3.1  MTR Material  test report
Pressure inspection report
Visual and dimension control report
Product warranty
Valve operation manual
Product of origin
Write your message here and send it to us