Multi Port Ball Valve Four Way/Three Way Ball Valve API 6D
Design Feature
Specification
Product Tags
Product Description
Multi port Ball Valve, Four Way Ball Valve, API 6D standard design, Material cast steel body and soft seated
Class size 20IN CL600 RF ends, MFG face to face, Gearbox operation
The four-way ball valve has the advantages of small assembly space, small fluid resistance, big flow capacity, and quick flow direction change. The ball valve has four sealing seats, so the ball has reliable sealing performance in any direction of rotation, and the position of the sealing ring can be adjusted to achieve the desired purpose. By rotating the valve operation 90°, can change any fluid direction open or close. The ball valve uses soft seat sealing material and has good and stable sealing performance, thus the maintenance is very convenient.
Four way ball valve Structure
LL port, T- port and L- port pattern, Straight Port pattern available
Four-way ball valves are used in oil, natural gas, coal and ore mining, refining processing and pipeline transportation systems; in chemical product processing, metallurgical, hydropower, thermal power and nuclear power power systems; in urban and industrial pipeline system. Water supply and drainage, heating, In the irrigation and drainage system etc. It is good choice for the circulation system of liquid, gas, dust, slurry and solid particle medium.
Application Case
The electric or pneumatic operating four-way flange ball valve is widely used in various pipeline systems for open and shut the flow, which makes the media transport to various points according to a predetermined program.
The four-way ball valve has important role in power station and petrochemical system. It is called two-way water supply valve in power station and called an air reversing switch valve in the petrochemical system.
The working principle of the process manifold and valve group is replaced by a four-way ball valve, which simplifies procedures,reduces costs,save space, easy operation, easy control, and has good synchronization.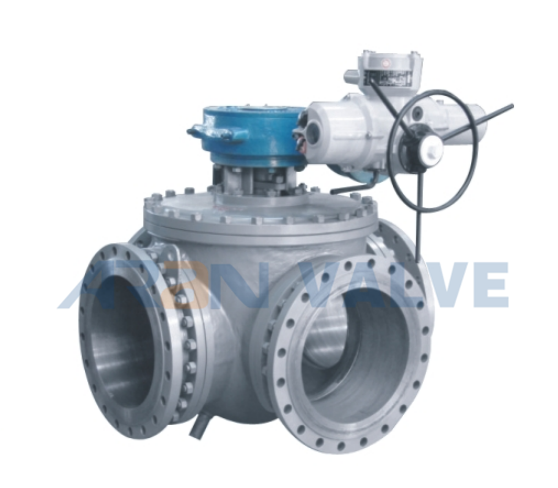 Motorized four-way ball valve
---
Previous:
Ball and Parts
---
Production Range
Multi- port Ball Valves
Material type
Forged steel or Cast steel
Material code
WCB, LCB, CF8, CF8M, CF3, CF3M, A105, LF2, F304, F316, F304L, F316L
Seat type
Soft Seated PTFE/RPTFE/DEVLON/NYLON/PEEKMetal seated  Hard coating material like CRC/TCC/STL6/Ni60/STL
Size
NPS 2"~24" (50mm~600mm)
Pressure
ASME Class150~2500LBS (PN16~PN420)
Operation
Manual, Worm Gearbox, Pneumatic actuator, Electric actuator, Hydraulic-electric actuator
Working Medium
WOG
Working temp.
Max 350℃
Production Standards
API/ANSI/ASME/EN/DIN/BS/GOST
Design& MFG code
API 608/API 6D/ISO17292/ ISO 14313/ASME B16.34/BS5351
Face to Face
ASME B16.10,EN558
End Connection
FLANGE RF/RTJ ASME B16.5/EN1092-1/GOST 33259
Test & Inspection
API 598, API 6D, ISO5208/ISO 5208/EN12266/GOST 9544
Basic design
FIRE SAFE
API 607
ANTI STATICS
API 608
Stem feature
Anti blow out proof
Ball type
Top Entry
Bore type
Full bore
Bonnet Construction
Bolted bonnet or full welded bonnet
Optional customize
NACE MR0175, MR0103, ISO 15156 compliance
ISO 5211 MOUNTING PAD
Limit Switch
Lock device
ESDV service suitability
Non-destructive testing (NDT) to API 6D, ASME B16.34
Documents
Documents on delivery
EN 10204 3.1 MTR Material test report
Pressure inspection report
Visual and dimension control report
Product warranty
Valve operation manual
Product of origin
Write your message here and send it to us