Russia Standard GOST LTCS Trunnion Mounted Ball Valve
Design Feature
Specification
Product Tags
Product Description
Forged steel LTCS trunnion mounted ball valve, DN300 PN160, 3pcs bolted bonnet body design, body LF2, and ball F316, stem 17-4Ph, seat Devlon,gearbox operation. GOST 33259 flange end.
QL has full experience in delivery all ranges of Trunnion ball valve zero leakage to Russia market by the GOST Russia manufacture standard.
The valves are gear operation or bare shaft ISO 5211 top flange standard ready for electric operation or pneumatic operations.
The soft seated material can meet most general application, and the metal seated ball valve will meet most severe particle and high temperature application.
QL provide customers the valve Russia design standard end connection, Russia letters marking for material and operation, Russia documents.
Our sales engineer provides both the Russia and English language sales service for better communication.
The main Russia standard body materials:
Carbon Steel for temperature -40 ~450℃: GOST Сталь 20, 20Л, 25Л, ANSI WCB/A105
Low Carbon Steel for temperature -60 ~450℃: GOST 09Г2С, 20ГЛ, ANSI LCC, LCB, LC1, LF2, LF3
Stainless Steel for temperature -60 ~565℃: GOST 12Х18Н9ТЛ, 12Х18Н12М3ТЛ, 10Х17Н13М2Т, ANSI CF8/F304, CF8M/F316L, F321/321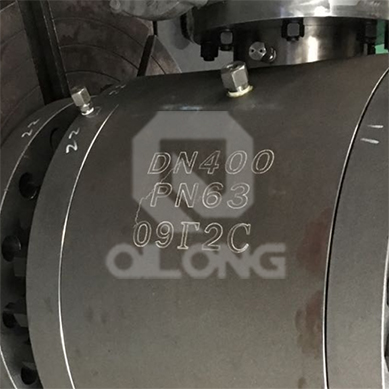 Low temperature carbon steel ball valve  Russia material  09T2C, suitable for -60 ℃.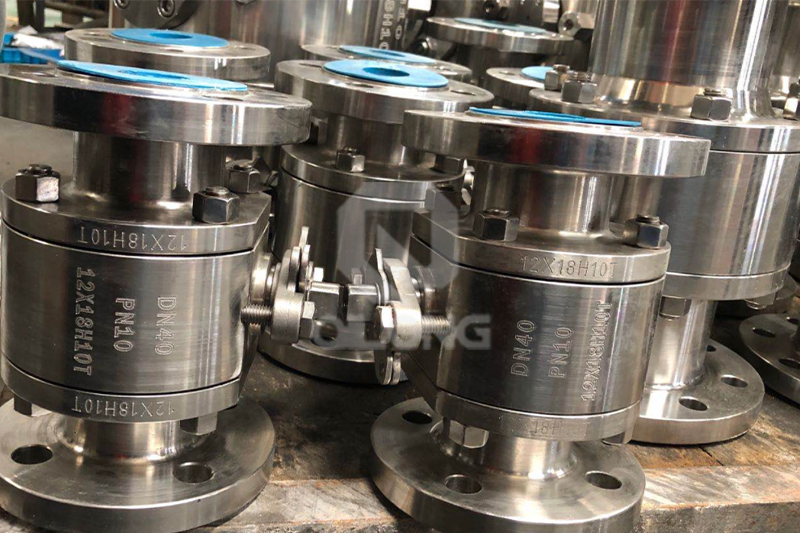 Stainless steel material ball valve  Russia material 12X18H10T.
---
Next:
Ball and Parts
---
Production Range
Trunnion Ball Valves
Body
Side entry 2pcs or 3pcs bolted body
Seat design type
Double block and bleed single piston seat as standard
Ball type
Trunnion mounted ball
Sealant injection
Stem and Seats sealant injection for soft seat, N/A for metal seat.
Material type
Forged steel or Cast steel: carbon steel, LTCS, alloy steel, stainless steel, duplex steel, bronze, Inconel, Hastelloy, Monel, Incoloy etc.
Material code
WCB/A105, LCB/LF2, CF8/F304, CF8M/F316, CF3/F304L, CF3M/F316L, C95800, 4A/CD3MN/F51, Inconel 625, Monel 400/CW12MW, etc
Seat material
Metal seated: Hard coating material like CRC/TCC/STL/Ni60
Soft seat: PTFE/RPTFE/DELVON/PEEK/PPL
Size
NPS 2"~24" (50mm~600mm)
Pressure
ASME Class150~2500LBS (PN16~PN420)
Operation
Manual, Worm Gearbox, Pneumatic actuator, Electric actuator, Hydraulic-electric actuator
Working Medium
WOG
Production Standards
API/ANSI/ASME/EN/DIN/BS/GOST
Design& MFG code
API 608/API 6D/ISO17292/ ISO 14313/ASME B16.34/BS5351
Face to Face
ASME B16.10, EN558
End Connection
FLANGE RF/RTJ ASME B16.5/EN1092-1/GOST 33259;
BUTT WELD BW ASME B16.25
Test & Inspection
API 598/ API 6D/ISO5208/EN12266/GOST 9544
Basic design
Ball valve
FIRE SAFE
API 607
ANTI STATICS
API 608
Stem feature
Anti blow out proof
Ball type
Side entry
Bore type
Full bore or Reduced Bore
Bonnet Construction
Bolted bonnet or full welded bonnet
Optional customize
NACE MR0175, MR0103, ISO 15156 compliance
ISO 5211 MOUNTING PAD Bare shaft
Limit Switch
Lock device
ESDV service suitability
Bidirectional sealing to Zero leakage
Extend stem for cryogenic service
Non-destructive testing (NDT) to API 6D, ASME B16.34
Documents
Document on delivery
EN 10204 3.1 MTR Material test report
Pressure inspection report
Visual and dimension control report
Product warranty
Valve operation manual
Product of origin
Write your message here and send it to us